Marsden's Pure Honey llc
Maybe you have seen me at the Dane County Farmer's Market in Madison , Wisconsin. Then you know where to get great honey. I have been keeping bees for over 55 years and have been selling honey at the Dane County Farmers Market, 'On the Square,' in Madison for over 40 years. Most of my honey comes from the countryside around McFarland, Stoughton and Cottage Grove Wisconsin. I move my bee around to pollinate crops for farmers and sometimes get different honeys. Everyone loves my wildflower honey. Maybe it is the care I put into keeping the honey fresh and just the way the bees made it. I also often have clover, Russian Olive, thistle, basswood, dandelion and goldenrod honey. My favorites are knapweed (a hazelnut flavor) and Russian Olive (tastes like someone put cinnamon in it. ) Wisconsin sure has great honeys. However this year the rain has cut the honey crop a great deal. I have some wildflower honey and comb honey left. I also carry honey straws, spun honey and beeswax candles.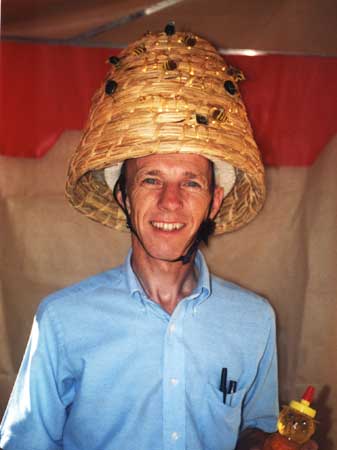 Dale, selling honey at the Dane County Farmer's Market, in Madison.
Holiday candles now available . Floating roses and holy leaves. My standard and hex tapers, now available in cranberry red.