Marsden's Pure Honey llc
Maybe you have seen me at the Dane County Farmer's Market in Madison, Wisconsin. Then you know where to get great honey. I have been keeping bees for over 57 years and have been selling honey at the Dane County Farmers Market, 'On the Square,' in Madison since 1978. Most of my honey comes from the countryside around McFarland, Stoughton and Cottage Grove Wisconsin. I move my bee around to pollinate crops for farmers and sometimes get different honeys.
The Dane County Farmers' Market is open and I have been selling last year's honey at the Alliant center this spring. June 19th the Dane County Farmers' Market will be back on the Capital Square on June 19th and Saturdays through October..
I am also mentoring Jacob and Kat at Eugster's Farm Market on Hwy 138 west of Stoughton, WI, so they will have their own honey for sale next summer. Expect their hony ot have the same qualities as mine.
Check out my Hive Art page to see what I have been doing during Covid .
Dale Marsden
PH: 608-838-3992 marsdenhoney@yahoo.com.
Shipping - Flat rates have gone up but I have found some packaging that saves $.
80 honey sticks $20 + $8 S & H $28
1 - 12 oz. Honey Bear $6 + $10 S & H $16
2 - 12 oz. Honey bears $12 + $10 S & H $22
1 - 1 Lb Plastic jar of honey $6 + $10 S & H $16
80 honey sticks+1 Lb Plastic jar of honey $27+ $11 S & H $38
1 - 2 lb. Plastic jar of honey $13 +$12 S & H $25
1 - 5 lb Plastic jar of honey $25+ $18 S & H $43
2- 12 oz. combS of honey $24 + $10 S & H $32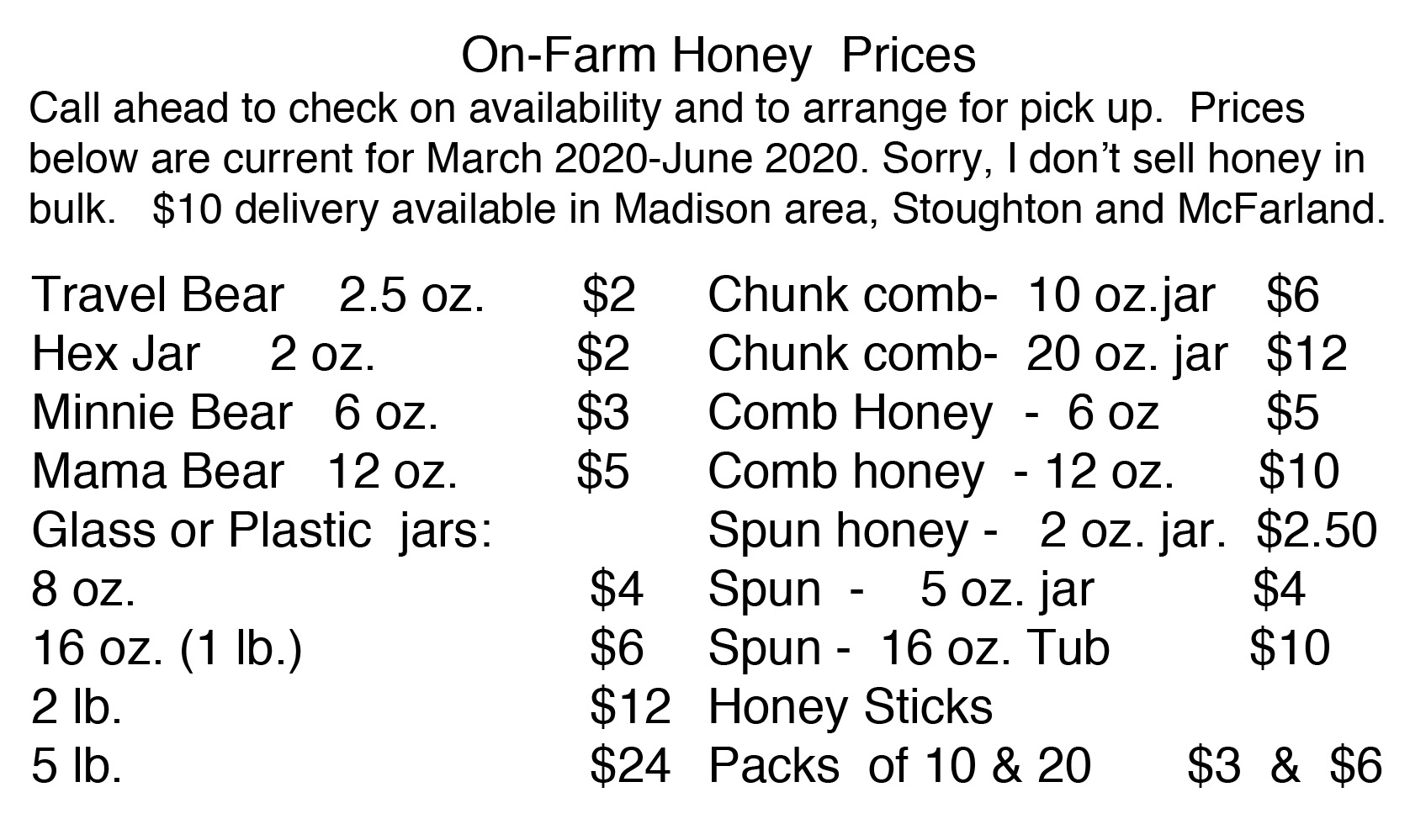 Fresh dandelionand and buckwheat honeys are now available on the farm and at the DCFM market .
On Farm Honey prices:
12 oz. Honey Bear $5
8 oz. Jar glass or plastic of honey $4
1 Lb. Jar glass or plastic of honey $6
2 lb. Jar glass or plastic jar of honey $12
5 lb. Jar glass or plastic jar of honey $24
1 - 12 oz. comb of honey $12
16 oz. Tub of spun honey $10